It's not all Zoom and gloom, people.
Late fall and winter holidays have always helped carry us through the darker, colder days. This year, it may be even more important to celebrate together, and a virtual holiday dinner may be just the thing to help bring light to the darkest days.Thanksgiving. Hanukkah, Kwaanza, Christmas and New Year celebrations are just around the corner. Here's how to have a safe, fun virtual holiday dinner.

Make time for set up
Give yourself plenty of time to prepare for the event, as well as the meal. Create your guest list, keeping in mind what a screen full of chattering people might look and feel like. Although online platforms can hold multitudes, you might want to scale back and keep things a bit more intimate this year.

The holiday itself will set the theme, and if you're inclined, send out a theme-coordinated electronic invite from a site like Evite, Paperless Post or Greenvelope. You might also consider sending a holiday menu and traditional family recipes. This way, everyone can look forward to eating the same meal.

Or send snail mail invites — who doesn't want to find something other than junk mail in the mailbox — along with decorations so there's a cohesiveness to the dinner. (For something unique, you can personalize and create custom invites, T-shirts, pillows and just about anything else at Zazzle.)

And while you're mailing things, think about sending your guests some of those great cookies you're known for — a little taste of home goes a long way to creating connections.

Do a run-through before the event so you know that whatever it is you want on the screen — and not just the top of your head — will be visible. Play around with lighting to let your best look shine through.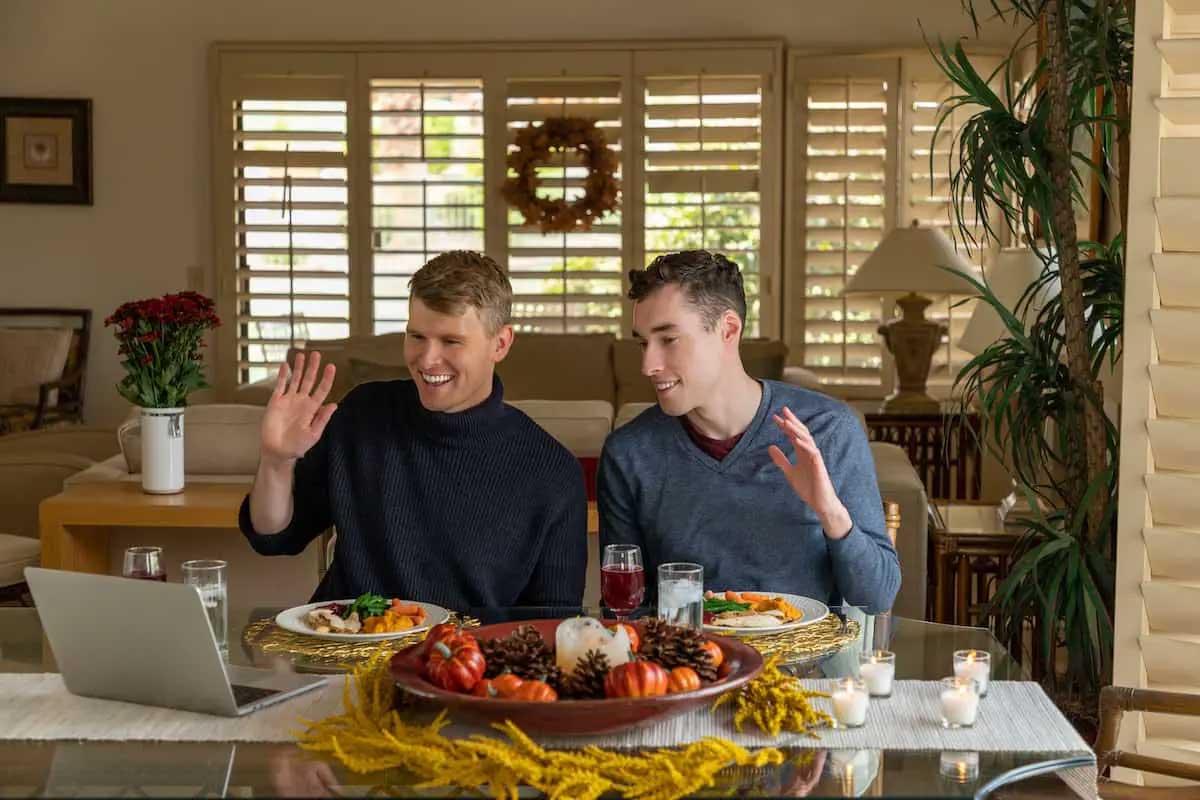 Platforms make perfect
There are several online platforms for group gatherings. If you work in an office, you're probably familiar with a few of them. And even if you aren't working remotely, Zoom has become ubiquitous for everything from book clubs and sewing circles to board game nights and happy hours.

Each platform has its pros and cons. Before you decide, do a bit of research on how easy it will be for your friends and relatives to connect on the platform, how many people can be part of the festivities and the security protocols — we've read the stories about nasty "Zoom bombers" who show up uninvited.

Here are some platform options:
Skype: Up to 50 people
Zoom: Free plan is 40 minutes — maybe for some quick appetizers and a drink
FaceTime: Up to 32 devices
Google Hangouts: Video with up to 10 people at one time; group chat up to 100 people
Ideally, everyone should be using something with a screen larger than the one on their cell phone. If you're using a laptop, lift it up on a few books so that people see your face in a natural way, as if you're actually seated with your dining companions. Then, pick a screen view that feels right to you, whether it's a Hollywood Squares kind of vibe with boxes or just one speaker at a time.

As for sound, larger devices are going to offer better quality than a phone, but regardless of device, get everyone to mute themselves. Otherwise, the cacophony of clanking silverware, chairs sliding on the hardwood, dinner prep and people talking will become unbearable.

And if you're not tech-savvy, corral a relative who is, and get that person to teach others how to use the chosen platform, to troubleshoot issues and to volunteer to take care of problems that crop up on the day of the virtual holiday dinner.
Create virtual ambiance
You want a party that's warm and inviting even if people are participating in their own homes. What makes parties so special are the things that perk up the senses — the look, feel, smells and sounds of the event. Baking and cooking will take care of the deliciously sweet and savory smells, but indulge the other senses with these ideas:
Ask your guests to name their favorite holiday songs and create a festive playlist that everyone can tap into on Spotify or Pandora.

Make your dinner special by requesting that your guests dress for the occasion. They'll likely be glad to get out of their pandemic pants for a festive event.

Elevate the experience by setting the table with your best glassware, plates and utensils. Use cloth napkins and a holiday-themed tablecloth. Incorporate a centerpiece of flowers, garland or other plant life. Light candles, and set them on the table. and around the room for a subdued light. Google the words "holiday tablescapes" for a dizzying array of ideas.
And with everything and everyone looking so gorgeous, don't forget to take a photo on your phone or a keepsake screenshot.



Structured or unstructured?
If everyone were at your home, there would be a lot of crosstalk and side conversations. At a virtual holiday dinner, that will just be annoying. As host, you may want to set an agenda, albeit a loose one since this isn't a work function. Let people know they can chat and interact before dinner, say, from 5 to 5:30 p.m.
During dinner, to keep the noise level down, you can take a "talking stick" approach. Make it fun by using a celery stick or a carrot, or prior to the dinner have kids decorate a piece of wood for a festive talking stick — whoever is holding the stick gets to share a story or two.
The Passover example
Take a cue from the Jewish holiday of Passover. Those who celebrate have a built-in agenda for the festive meal, or seder, which translates as "order." Just prior to eating, attendees read aloud from the Haggadah, which tells the story of the ancient holiday.

Although there's a designated leader, the story gets passed around the table and everyone gets to read a portion. There are parts that are interactive, and there's often discussion meant to connect the ancient story with modern-day events, for example. At the end of the meal, children are sent off to find the afikomen, a piece (or several pieces) of matzah, which had been hidden earlier.

This same structure might also work for Thanksgiving, Christmas, Hanukkah or Kwanzaa. Find a poem or a story that's not too long or an abridged version of a holiday classic and have people each read a passage or a page out loud. Then, talk among yourselves. Kwanzaa, in particular, has shared text as part of its celebration as people participate in discussions of the seven core principles.

Make your own traditions
Since holidays are all about connecting with family and friends, continue with your own traditions. If you open gifts on Christmas Eve, get everyone in on the action. If you celebrate Kwanzaa or you celebrate Hanukkah, have guests light their kinara or menorah (candleholders), respectively, all at once.

Sing carols and other holiday songs together. If you always watch a football game on Thanksgiving Day, everyone can watch and chat together by using AirTime. Or spend time cooking and baking together before the festivities begin.

Keep in mind that timing is everything. You might want to schedule in some mini-breaks, and definitely schedule an endpoint. Let people know ahead of time that the dinner will last an hour or an hour and a half. "Zoom fatigue" is a real thing.



Let the holiday games begin
During dessert or at the end of dinner is a great time for a scavenger hunt. Send off the children while you have some adult talk or create an all-ages game and get in on the fun.
If you've sent out desserts prior to the dinner, you can have a virtual "taste-off" and vote on your favorites.

Lots of other games are easy to play virtually, like bingo, Cards Against Humanity, trivia, 21 Questions, charades and Pictionary. (Here are some ideas for Thanksgiving activities.) Or download the Jackbox or Houseparty app to play virtual group games.

I'm so glad we had this time together…
While a virtual holiday dinner might take some extra thought and preparation, it will be worth it to have the family together. Let everyone know they should feel comfortable opting out at any time.

Recently, Miss Manners offered this advice on how to leave an online gathering politely. "The same way you leave any party that is in full swing long after the expected time. You put on your brightest smile, say to the host, 'This was great fun, but I'm afraid I have to leave now. Goodbye, everyone!' And it is even easier now to make a quick exit because the 'Leave Meeting' button is closer than the door would have been."

Happy holidays to all and to all a good night!